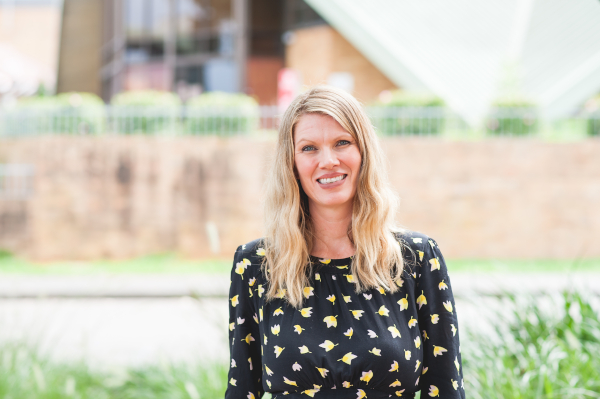 In our 'women in the property and infrastructure industry' series, we give you a little more insight into the talented women who form an integral part of the Barker Ryan Stewart team. This blog post will feature Mackenzee Beckenham, who is the Bid Coordinator and an Assistant Project Manager at Barker Ryan Stewart.
Describe your career path and how you have progressed to your current role.
In 2006, I started with an oil and gas company called Halliburton as an Administrative Specialist. My goal at the time was to get my foot into the door at an oil and gas company since that was the biggest industry in my home city in Calgary, Alberta, Canada and also because my entire family worked in the industry and it's all I've heard about since I was little.
Halliburton is one of the world's largest providers of products and services to the energy industry with approximately 60,000 employees, representing 140 nationalities in more than 80 countries, so I was pumped to be able to land an entry-level job within the organisation.
During my first year with Halliburton, I was supporting a team of General Managers, Sales Representatives, Engineers and the Marketing Analyst within the business unit. Part of my role included supporting the Marketing Analyst with Sperry Drilling tenders. I only supported the Marketing Analyst in tenders for about four months and then her role was made redundant.
After the restructure of the Sperry Drilling unit was complete, I had a new manager from Texas who informed me that my first chance to shine at Halliburton would be on a tender, a very large-scale tender. I, of course, jumped at the opportunity I was given, but also had no idea how hard it was going to be with the little experience I had gained in a support role.
Soon after surviving the first few major tenders, I was taking on the full responsibility of the tender process and was promoted to a Proposal Specialist role and stayed in this role until I moved to Australia in 2008. It was after I left my role with Halliburton that I realised that bid management was a path I wanted to explore and guide my career towards.
What does a day in your working life at Barker Ryan Stewart look like?
A day in my current role at Barker Ryan Stewart is quite difficult to define as every day varies greatly depending on what type of tender or project I'm working on. It is a very busy role, as I'm working on a few commercial projects as an Assistant Project Manager, but I'm also coordinating the tenders that are prepared to win future projects. In both my Bid and Assistant Project Manager roles, I work closely with our civil, planning, surveying and project management team members to establish how we can meet our client's project needs and deliver competitive tender submissions.
For my role in project management, my day to day work involves supporting the project management team, communicating with internal and external stakeholders, attending site inspections, cost management, project milestone programs, and managing subconsultants and contractors.
In my Bid Coordinator role, I normally start my day reading through tender notification emails to scan through any potential opportunities for the company to tender for. Once I've found a tender that might be of interest, I'll send the tender brief to the relevant Project Manager. Once we have the go-ahead, I am then responsible for developing and producing our tender offer within the timeframe given in the tender brief. Most tenders are a bit like the Melbourne Cup race – there is a lot of work to do in a very short amount of time.
During the tender preparation stage, my day will be spent working closely with our internal bid team to understand the key drivers and requirements of the project. I then need to translate this into our bid submission, making sure we are compliant to the tender brief requirements and responding to tender schedule questions to ensure that we don't lose sight of what the customer wants. All this happens within a short timeframe (usually between 1-3 weeks), which can certainly be stressful, but in the end so rewarding when you see the finished product put together by the team and submitted to the client before the deadline. It's always an amazing feeling to submit in a tender when you've worked hard to deliver something exceptional in a very short period (and even better when you win the project!).
What are the favourite parts of your roles?
My favourite parts of both of my roles are working closely with a wide variety of the Barker Ryan Stewart team and building relationships with our clients. I enjoy every stage of bid management, from monitoring tender opportunities, developing a win strategy with team members, writing and developing content, layout design and presentation preparation to finalise the submission. Even the race to the finish line gives me an adrenaline rush that I only get with tenders.
How are your roles integral to Barker Ryan Stewart's operations?
As a Bid Coordinator / Assistant Project Manager, my role is an integral part of the bid infrastructure and project management teams that support Barker Ryan Stewart's projects and bids to contribute to the strategic growth of the company through new and existing business wins.
What have been some of the highlights of working at Barker Ryan Stewart?
The highlight of working for Barker Ryan Stewart has been the ongoing professional development support from the Directors and my Office Manager. My skill set has developed immensely over the past four years and I always feel I have the support and tools necessary in achieving my career goals.
What is one thing that surprised you about working at Barker Ryan Stewart?
When I started with Barker Ryan Stewart, I was pleasantly surprised by the company culture. The company shines when it comes to a friendly work atmosphere with the Directors, Senior Managers and colleagues. The company culture is also based around a team-oriented environment to achieve project solutions together, which I found has created a stress-free environment in my role. Everyone is like family at Barker Ryan Stewart and treat each other with the utmost respect.
How has Barker Ryan Stewart been able to support your career progression?
Barker Ryan Stewart offers excellent career and development opportunities and has supported me along my career journey with short courses to advance my computer skills in MS Project and InDesign. I have also taken professional bid courses to improve my bid strategy skills in writing executive summaries, to managing the bid process. Barker Ryan Stewart has also supported my project management career progression by enrolling me into a 6-month Project Management Certificate IV online course.
What do you enjoy doing outside of the office?
I'm very active and busy outside of the office. My husband and I started flipping houses a few years ago and are currently finishing our second house flip, plus ongoing renovations at our own house. I try to stay active by running 3-4 times a week with some yoga and TRX resistance training in between and skiing at Thredbo a few times during the winter. I also have two daughters in primary school that keep me busy with their school and after school activities.
As 2019 is nearing the end, what are you looking forward to achieving next year?
My career path goals from 2019 have been achieved by moving into a Bid Coordinator / Assistant Project Management role, and for 2020 I would like to continue to support the project management team with future projects and work on more complex infrastructure tenders with the bid infrastructure team. Personal goals would include finishing our second house flip and moving onto the next flip project, but also setting more time aside for family time.
Want to get to know our team a bit better?
Check out our other 'women in the property and infrastructure industry' blogs to learn more about our team.